With Bennett, you can search for Bluetooth and Bluetooth Low Energy / Bluetooth Smart devices and monitor their signal strength.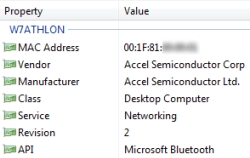 search
---

search
Device Details & Signal Strength
You can also monitor the signal strength of selected bluetooth devices in a graph over the time. With a right mouse click, you can start logging to a text file and create a screenshot.
---

search
View SDP Elements
Shows all Service discovery protocol (
SDP
) elements from a Bluetooth device with their attributes, UUIDs and values.
Do you like the software? Make a Donation!
You don't need to have a paypal account in order to make a donation.
Install using package managers:
winget install --id the-sz.Bennett -e --force
content_copy
choco install bennett.portable -y --ignore-checksum
content_copy
Supported Languages:

English

French

German

Greek

Russian

Swedish
Supported Operating Systems:
Windows 11
Windows 10
Windows 8
Windows 7
Windows Vista
Windows XP
Windows 2000
Windows Server
Command line options:
| | |
| --- | --- |
| /r <milliseconds> | Refresh in milliseconds |
| /v <milliseconds> | Scan timeout |
| /t <milliseconds> | Exit after specified milliseconds |
| /s <name> | Log only this name |
| /l <file> | Log to this file name |
| /c 1 | Use , in log file instead of tab |
| /? | Show all options |
All available Bluetooth devices with their settings:

All Service discovery protocol elements: